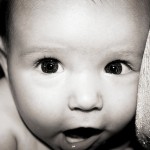 Congratulations! You have officially passed the parenting Boot Camp that is life with a newborn. You are no longer that stunned slack-jawed new parent stumbling blindly through the produce isle at the grocery. Good for you!
If you haven't already done so,  take a few minutes to check out the Newborn Baby Sleep Survival Guide. Everything there still applies to your no-longer-a-newborn baby.
While some babies are done with swaddling by the 3 month mark, others will be happily swaddled until they are 6-9 months old. You'll want to continue to use loud white noise and work hard to make sure you aren't keeping baby awake too long. While your baby may be taking fewer longer naps it's also totally normal for babies to still be filling their days with frustratingly short catnaps (check out Baby Sleep What is Normal for more details on this).
Your Baby Sleep Homework
When your baby is a newborn you can guiltlessly let them sleep wherever (basinett, your lap, etc.) and put them to sleep however (nursing, swinging, butt patting, etc.). And while it's not time to panic, you now have 2 big pieces of homework to work on over the next few months.
[list type="bignumlist"]
Work Towards the Crib

Unless you are into co-sleeping for the long haul, now is a great time to start working on having your baby sleep in the crib. I'm not suggesting that the second your baby turns 3 months they need to be in the crib, but I am suggesting that 3-6 months is typically the easiest time window to make this change.

Teach Baby to Sleep on Their Own

This is THE BIGGIE. You want to start gradually putting your baby down awake. Some babies will fight this with a fiery passion. So the process of gradually reducing the amount of nursing, rocking, and butt patting you do can be frustrating. But it's REALLY important. Also? Failure to do so almost guarantees you will never ever sleep through the night. That's how important it is.
[/list]
Further Reading
The Ultimate Guide to Vanquishing Short Naps
Is Your Crib as Safe as you Think?
Everything you need to know to make bedtime awesome.
How and Why to Use and Loose the Paci
Weaning Baby OFF the Swing
Bedtime What Time?
Why Your Baby Hates the Crib
What to Do About Short Naps
Are You Keeping Baby Awake Too Long?
Sleeping Through the Night Part 1
Sleeping Through the Night Part 2
What You Need to Know About Sleeping Through the Night – Part 3
Is it time for Cry it Out?
What You Need to Know About Sleep Regressions
And of course the ever popular – Baby Sleep What is Normal?
{Photo credit: Lisa Stout}