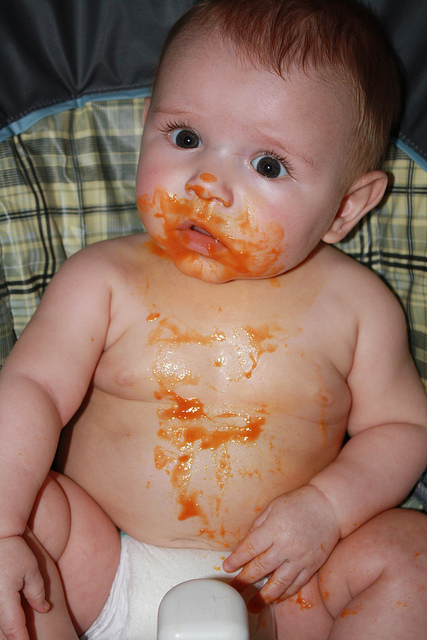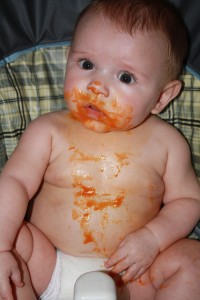 This is it parenting peeps, the last few legs of the race. Enjoy these last days of being a parent of a BABY because in mere seconds you will be the proud parent of a TODDLER. Your older baby is no longer a screaming mess of short naps and blowout poops. Your baby is NOW a delightful smiling, laughing, ball of cute baby chub and tickle toes. Seriously, there is nothing better than a 9 month old baby. Absolutely nothing.
Things That Are Normal for 9-12 Month Old Babies
[list type="checklist"]
Bedtime is pleasant and happening at a reasonably consistent time each day somewhere near(ish) to 7:30 PM.
Baby is taking 2 consistent long(ish) naps a day.
Baby may still need a 3rd nap although this may vary from day to day. It's generally short, maybe as little as 10-20 minutes. Also the 3rd nap is unlikely to happen in the crib so you may need a stroller walk/baby wearing/car ride to make it happen.
Baby is enjoying solid food and finger foods – YAY!
Baby is sleeping ~11 hours a night – YAY!
Baby is eating 0-1 times at night.
Baby is falling asleep on their own at bedtime and naptime.
Baby is sleeping where you would like them to sleep (crib or co-sleeping).
Baby is done with most sleep aids (swing, swaddle, pacifier) but is still happy with a dark room, loud white noise, and possibly a lovey.
[/list]
This may not describe your baby which is OK. Baby sleep is not like a race. What matters is that you DO cross the finish line, not WHEN you cross the finish line.
If your older baby is still up all night, taking short crappy naps, and struggles to go to sleep at bedtime, then start reading here:
How to Get Baby to Sleep Through the Night – Part 1
How to Get Baby to Sleep Through the Night – Part 2
How to Get Baby to Sleep Through the Night – Part 3

If your baby is 9-12 months old and sleep is still a misery (20 minute naps, bedtime battles, baby up all night, unwilling co-sleeping, only sleeps on Mom's boob, etc.) then it may be time to consider sleep training. If you're curious and want to learn more you can find everything I've written about cry it out here.
Further Reading
Why Bedtime Is Critical and How to Rock It
How and Why to Use and Lose the Paci
Weaning Baby OFF the Swing
When Night Weaning isn't Working
Bedtime What Time?
Why Your Baby Hates the Crib
Monumental Guide to Vanquishing Short Naps
Are You Keeping Baby Awake Too Long?
Why You Need White Noise
When Babies Drop Naps and What to Do About It
The Secret to the 12 Hour Night
And of course the ever popular – Baby Sleep What is Normal?
{Photo credit: Lisa Stout}