I have over 15 years of experience working in technology and have a degree in Technical Writing from Carnegie Mellon and an MBA and MS Finance from the University of Colorado.  And 10 years ago I was so tired I would have happily chewed off an arm and then eaten it in exchange for 8 hours of uninterrupted sleep.
I started Precious Little Sleep (then Troublesome Tots) in 2011 as an excuse to not clean the house. I had a lot of personal experience with kids and sleep, was (am) a huge reader of baby books, academic research, and connected with a number of really amazing pediatricians and pediatric sleep specialists. I figured 5 people would read it. Now millions of parents all over the world read it. Honestly it's pretty thrilling! And obviously way more important than housecleaning, so that's worked out well.
I have invested years interviewing experts, digging into research, and working with individual families to understand why sleep is challenging and what parents can do to improve things. I spent 3.5 years creating a comprehensive resource on kids and sleep, the Precious Little Sleep book. It is funny, accessible, evidence-based, and chock full of practical tactics for tired parents. I'm pretty sure it's bad form to say your own book is great, but it is, and I am.
I love working with smart, involved parents who are interested in strategies to help their children sleep better. Who understand that sleep is fundamental to their growth and development. And that kids don't "grow out" of sleep struggles, they "grow into" them. Who are looking for an action plan to make things better.
I live in Vermont with my husband (who is French and adorable), our two boys, two cats, one dog, and a fish. When I'm not working I am a slow trail runner, a sloppy nordic skier, and a bad crossfitter. I read a lot of romance and fantasy novels (adore Rainbow Rowell, Maggie Stiefvater, Mark Lawrence, Brandon Sanderson, etc.). I am a terrible housekeeper but a good friend who has a quality bottle of wine on hand at all times, for emergencies.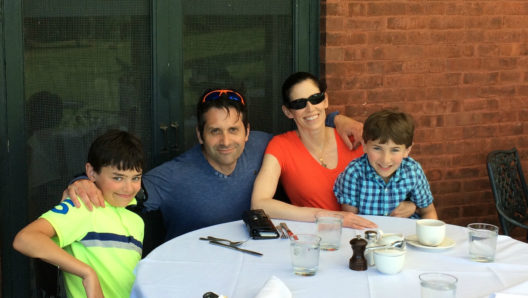 If you have something you want to share with me drop me a line! Questions, suggestions, and advice are always warmly accepted.
Please know that if you are writing with a sleep question, I will definitely read it (and I love hearing your stories!). However due to volume received, I'm only physically able to respond to ~5% of emails received. If you're desperately looking for answers we can set up a 1:1 sleep consultation. Or you can share your situation with other kind parents over on the Precious Little Sleep Facebook Group, who frequently have great thoughts to share.
Use the form below or email me at alexis (at) preciouslittlesleep (dot) com.
[contact-form to="[email protected]" subject="contact form PLS "][contact-field label="Name" type="name" required="1″][contact-field label="Email" type="email" required="1″][contact-field label="Message" type="textarea"][/contact-form]