Finding time to read is hard. Getting out of the house in the evening to attend a book club meeting is hard.
But reading is so great! And connecting with other book lovers is also great! So we're going to give this a try. If you want to have a go with other kind and funny parents of young children, sign up below. This email list is only about book club so you'll never hear from me about anything else. Email simply makes it easier to ensure that everybody is getting updates such as: which book, discussion topics, and when/where discussion will be held.
This is an on-line book club so you can participate when it works for you (evening, kids are napping, weekend) but still get to socially engage with other interesting people, get introduced to books you might not otherwise try, and have some motivation to keep reading. Because books are great.
If you want to participate (you do, you do!) sign up below. While I'm thinking the discussion will happen on Facebook (this is still under discussion, I'm open to other ideas/suggestions!), coordination will be easiest via Email.
What Sort of Books?
We're going to focus on books that are:
Fun, light, page-turners
Of reasonable length (parents of young children don't have time for huge novels)
Aren't depressing (The Fault in Our Stars is breathtaking but we won't be reading anything where kids get cancer!)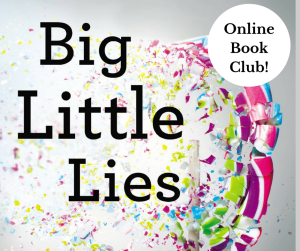 The inaugural book is Big Little Lies by Liane Moriarity and our goal is to have it read in ~6 weeks (shooting for May 1st). Details will follow via email to about where the discussion will happen, discussion topics, and ideas to share & vote on for the subsequent book.
It's hard to carve out time/energy to read! But reading is just so cool. So for additional motivation here is a picture of cool people reading. See? As a reader you are officially part of the cool people club!