What do you need to know if your baby is formula fed?
If you are a formula feeding Mom, you will need to be on the lookout for allergy provoking foods in formula, particularly dairy, soy and corn. Most infant formulas are milk protein based, but if you suspect a cow's milk protein allergy/intolerance, it doesn't mean you don't have options. Your pediatrician will likely suggest a step-wise approach to changing formulas.
The first step is to try a hydrolyzed formula with partially broken down proteins for easier digestion. If this is not enough to resolve symptoms, you can move to elemental formulas. These are made of amino acids (the building blocks of protein) and contain no cow's milk or soy protein.
They do, however, contain corn syrup, as do many formulas. All babies need sugar for development, but the sugar from breast milk is in the form of lactose. There are formulas that use lactose, formulas that use corn syrup, and some that use a combination of both. A few even use sucrose, cane sugar or brown rice syrup. So if you suspect your child has an issue with corn, you'll need to choose a formula with an alternate form of sugar.
[box type="blank" class="border-dashed2″]
A Word About Rice
If you are not familiar, in 2012, Consumer Reports and the Food and Drug Administration released reports showing high levels of inorganic arsenic in US rice. This included all kinds of rice including white, brown, basmati, jasmine, and baby cereal/food and baby formula. You should know that the makers of "Baby's Only Organic" milk based formula did change their source of rice (they went outside the US) and submitted their product to re-testing and are considered safe as long as the expiration date is Jan 2014 (Dairy with DHA and ARA) or July 2015 (Dairy) or later. Kudos to them! For the full reports, see Arsenic in your food and FDA looks for Answers on Arsenic in Rice.
[/box]
Soy-based formula can be an option and is nutritionally sound but I would be remiss if I did not say that it is very controversial right now due to the plant estrogens. Many people believe that these estrogens negatively impact a baby's development, especially in males. My pediatrician and nutritionist still recommend soy but some do not. In 2008, the American Academy of Pediatrics (AAP) revised their stance on the use of soy. Although, the AAP report that no findings confirm soy formula to adversely affect reproduction or endocrine function, they limit their recommended use of soy formula to only term infants who have galactosemia, and hereditary lactase deficiency and those with a vegetarian lifestyle. The AAP does not consider it an alternate choice for dairy allergic infants; they suggest hydrolyzed or elemental formulas in this case. The AAP clinical study is comprehensive and explains why soy is not recommended for certain infants. Use of Soy-Protein Based Formulas in Infant Feeding
What are the milk alternatives for formula fed babies or weaning toddlers?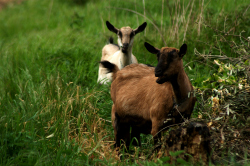 If you have exhausted your list of formula alternatives, you can find good home-made formula recipes for goat's milk. Goat's milk alone is not recommended as a substitute until 1 year of age. Prior to one year, you would need to add appropriate fats, carbohydrates and vitamins. You also need to dilute whole goat's milk prior to adding the other nutrients in order to decrease the protein level as it can be hard on a babies kidneys to process the amount in whole goat's milk. I experimented with a recipe from www.mtcapra.com when experiencing pumping and supply issues and needed to supplement. This recipe includes all of the aforementioned additions/instructions. As always, ask your pediatrician before choosing a formula alternative, some will agree this is an acceptable choice and some will not.
So how can goat's milk be ok, isn't it a dairy product? Goat's milk has a different type of casein protein than cow's milk and may not impact those with a cow's milk protein allergy. It depends on whether the allergy is to the casein or the whey protein. Typically, the CMPA is associated with whey protein while an intolerance is associated with the casein protein. But an allergy can occur with either. Whey protein is similar in both cow's and goat's milk so proceed with caution if you are not sure which protein your child is allergic to. Those who are intolerant (but not allergic to cow's milk) will likely do well on goat's milk because it is easier to digest. Casein is the harder protein to digest in the gut. This is why some babies do well on Gerber Good Start Formula even when cow's milk protein allergy was suspected. This formula uses only whey protein and contains no casein. For a child who can tolerate this formula but not other cow's milk based formula, the child would be considered intolerant to cow's milk but not allergic.
[pullquote type="1″]
Did you know that 65% of the world drinks goat's milk as opposed to cow's milk?
[/pullquote]
My Personal Journey with Milk Alternatives
My daughter is able to tolerate goat's milk just fine. This is what we plan on weaning her to when we are done with nursing and since she has just turned one, she has already started practicing with straight goat's milk as well as homemade coconut milk (which she prefers over goat's milk). We are not actually weaning at one, due to possible celiac disease, but more on that later. Goat's milk is lacking in folic acid and coconut milk is lacking in protein and calcium compared to cow's milk, but since we are still nursing, I am not yet concerned about this. In addition, I am starting to add almond milk to the coconut milk to provide calcium. More importantly, now that she is one, I am feeding her lots of nutritious solid food. For a child over a year old, milk should be supplementary to solids and milk alternatives can be considered without fear that your child is missing out on what cow's milk has to offer. As always, discuss your options with your child's pediatrician to ensure you are providing any nutrients missing from your milk choice.
If you need a milk substitute for your toddler, and goat's milk is not tolerated or desired, you can find a great article on all of your choices here: www.amazingandatopic.com. This is a mom whose daughter could not tolerate cow's or goat's milk and did some extensive research on her alternatives. Her daughter has several severe allergies and this blog is a great resource for allergies in general. Hint: hemp milk is her top choice and it was also suggested to us by my daughters feeding team, but she wouldn't drink it.
What if Your Baby is Exclusively Breastfed?
Or even exclusively breastfed with formula or solids? Do you still need to be aware of potential food allergies? Yes! A nursing mother needs to eliminate offending foods from her diet AND give it time to clear her system AND the babies system before deciding whether it was truly the culprit of symptoms. To add to the challenge, your child can have one reaction to cow's milk and another to soy or wheat, making it very difficult to determine what the offending food is. The fact that cow's milk protein can remain in your body and be passed from mother to baby for up to 2 weeks post last intake makes it even more difficult to determine if it's a problem. In addition, the symptoms seen in your infant when a food is passed through breast milk can be different than the symptoms when the food is given to the child directly once on solids.
When in this situation as a new mother myself, I was grateful that I had a pediatrician who "believed" in all of this. If you research the internet, you will find so many conflicting opinions on whether the mothers diet impacts baby at all, and if so, how much. In addition, people will say food allergies have nothing to do with colic while others claim they have everything to do with colic. I am firmly in the latter camp; colic symptoms disappeared for us completely once I went on the "elimination diet".
So, how does the elimination diet work? Given that cow's milk protein is the offending food in 50-65% of cases, this is typically the first thing to be eliminated. If your baby has eczema and GI symptoms beginning around 2-6 weeks of age (most common time for an allergy to begin appearing), cow's milk protein allergy should certainly be considered. Lots of babies have eczema, but if yours is also having bloody stool and/or diarrhea, or any of the other noted symptoms, you may have a food allergy. Note that blood in the stool looks black, not bright red. This is because it is coming from inside the GI tract, which has been damaged by the offending antigen. Always tell your child's doctor about significant changes in stool such as these. Severe and constant diarrhea can indicate a malabsorption problem and could lead to failure to thrive.
Bright Green stool/mucous in stool can be diarrhea from a foremilk/hind milk imbalance (which we also experienced) and this should be corrected before having you try an elimination diet as it could be the root issue.
Once you eliminate dairy, you should see improvement within 72 – 96 hours. Symptoms will not completely resolve for about a month as you need two weeks each for the protein to clear out fro both mom and baby. You also need time for the gut to heal and this could take up to 6 months.
Time for a Full Elimination Diet?
If you do not see enough improvement after 2-4 weeks upon eliminating dairy alone though, it may be time to go the full elimination diet route. This involves removing common allergens (gluten, cow products, foods that aren't easily digested) and eating only things like:
[list type="checklist"]
Lamb
Turkey
Pears
Squash
Rice
[/list]Slowly add other foods back in (usually the Big-8) one at a time and wait 2-4 weeks after each addition to see if any changes occur. I saw significant improvement in GI symptoms after 24 hours of eliminating dairy and body/face rashes cleared within a few days. However, we still had issues and I decided to go to the full diet after another couple of weeks. For us, colic ended within 2 weeks of beginning the full diet and I am convinced they were connected. Colic lasted 5 weeks for my baby and I was still eating dairy and/or wheat for 3 of those weeks. Many people experience colic for 3-6 months so I felt lucky!
NOTE: A nursing mother who eliminates dairy should take a calcium supplement for her own health as well as to maintain proper milk production.
While doing this trial diet, again, KEEP A FOOD/SYMPTOMS DAIRY for your child. Most foods pass into breast milk within 2-6 hours and usually no later than 24 hours. Record what you eat and when and then note the symptoms in your child and the time they occur. As stated earlier, symptoms can vary and you could have multiple food allergies/intolerances at work here.
For example, my child has severe diarrhea, cramps and gas when I eat wheat, but eczema and body rashes occur when I eat dairy. Similarly, a child's reaction can be different when the offending food is ingested through breast milk versus directly. For instance, when my daughter eats wheat,her eczema worsens and she vomits upon increased exposure (as opposed to her other GI symptoms when I eat wheat). With eggs, she had severe bloating, gas and cramps (think screaming) when through breast milk but an all over body rash when consumed directly even after symptoms through breast milk resolved. I have seen many other mothers confirm that this is their experience as well. The reactions can also lessen over time and can change from a true allergy to an intolerance or sensitivity. This is due to the continuing maturation of an infants' digestive system, which significantly improves at 6 months of age. Just be cautious when introducing solids because although the allergy may seem to have disappeared while nursing, your child may still react to the food when eating it directly for some time longer. It is quite common to see the degree of intolerance continue to decline as the child ages. An article posted by CalorieLab provides information on how each of the Big-8 allergies change with age as well as other very informative statistics. The Big-8 Food Allergies
Can wheat pass into breast milk? Can babies have celiac disease?
A wheat allergy can come from one or more of 4 proteins in wheat: gliadin, gluten, globulin and albumin. As with other allergies, it can manifest itself in the skin and the respiratory system. A child can outgrow a wheat allergy as they can any other allergy. However, Celiac Disease, although, also involving intolerance to gluten, is an autoimmune disorder where gluten damages the gut and can lead to anemia. Babies can have celiac disease and this is not something that a person can outgrow. I will discuss it a bit here but there are many clinical studies on celiac disease in babies and toddlers and these studies report on diagnosis, causes, associations, treatments, etc.
There has been debate about whether wheat actually passes into breast milk. A few studies show that Gliadin (a protein found in wheat) IS found in breast milk and can thus trigger reactions for infants/toddlers allergic to wheat or who have celiac disease. Regardless of the fact that there are not more documented studies proving this theory, many pediatricians see the impact in clinical practice and instruct nursing mothers to avoid wheat/gluten in their diet.
More on gliadin in breast milk:
Passage of gliadin into human breast milk
Presence of high levels of non-degraded gliadin in breast milk of healthy mothers
Although gliadin can pass into breast milk, nursing mothers with infants at risk for celiac disease should continue nursing! Multiple studies have been published that show that breastfeeding can actually prevent celiac disease and/or significantly lessen symptoms for a child, even into their adult life.
A researcher named Anneli Ivarsson in Sweden has been studying celiac disease in infants and children for well over a decade. In the most recent study published in May 2013, Ivarsson reports that not only is breastfeeding protective for infants with celiac disease, this latest study identified a window of opportunity to maximize on this protective benefit. Introducing gluten to a child 4 months of age and beyond while continuing breastfeeding is most protective. The longer breastfeeding continues while slowly introducing gluten, the better for the child. In addition, US researchers at Columbia University have proven that children with celiac disease who are breastfed are least likely to experience Failure to thrive, among other symptoms.
For more on breast-feeding and ciliac:
The American Journal of Clinical Nutrition, Breast-feeding protects against celiac disease
Official Journal of the American Academy of Pediatrics, Prevalence of Childhood Celiac Disease and Changes in Infant Feeding
Clinical Pediatrics, Presentation of Pediatric Celiac Disease in the United States: Prominent Effect of Breastfeeding
You should also know that there are associations between celiac disease and the intolerance to the cow's milk protein, casein. There are quite a few sources on this so if you feel your child may exhibit signs of both (as does my daughter), you may want to research this topic or ask your pediatrician.
Should you have your child tested for allergies?
Lastly, I should talk a bit about allergy testing. Know that there are both blood and skin tests. There are IgE mediated and non mediated allergies. There are separate tests for celiac disease. You could very well go through testing and have negative results to the allergies you think your child has. You could also have positive results for foods you don't feel your child reacts to. You could have positive results to blood but not skin and vice versa. Some people have testing anyway to find out whether there are hidden allergies that they have not yet fettered out on their own. Regardless of test results, your physician will likely tell you to keep avoiding foods that you know your child reacts to. For any newly identified triggers, it would be wise to test these on your own using your trusty food/symptoms diary and your new focus on the particular trigger.
For Celiac Disease blood tests to be positive, your child has to have been exposed to gluten to the point of flooding their system/getting sick. Even then, the tests could be negative. A biopsy of the intestine is the more definitive test for CD but who wants to do that on your infant?? Again, your own food/symptoms diary is more important than any test result. Based on my daughters symptoms when I eat wheat (diarrhea 10 times a day every day, even in the middle of the night!), our pediatrician has told us to assume she has celiac disease and has suggested I remain on the gluten free diet.
You notice that I use wheat and gluten interchangeably in the paragraphs above. They aren't the same thing really, but they do crossover and I don't consume much barley or rye anyway. I basically stay away from grains in general. I mean, I can't trust rice, so that leaves me with quinoa, salba, amaranth and millet. I do make quinoa cookies from time to time but otherwise, I just don't have time to mess with all of that.
Speaking of salba, amaranth, and millet…..organic baby food pouches from happy baby/happy tot®, Plum Organics®, and Sprout Organics® offer quite a few gluten free baby food made with these grains. These were a lifesaver for me before solids (now I cook gluten free/dairy free food all day and cut it in tiny aggravating pieces). Sprout Organics® even makes incredible level 3 foods inspired by Chef Tyler Florence. Seriously, I have finished off packets my daughter doesn't eat.
How do you make the best decisions for your baby?
In the end, whether you need to make decisions about your diet choices, formula choice, baby food, milk alternatives for a toddler, allergy testing, etc., decide for YOURSELF. Your pediatrician, nutritionist, GI specialist, or allergist may not be aware of/disagree with the latest research or may have strong opinions that YOU don't agree with. And although the internet is a wonderful place (Google is my friend), do lots of research before making decisions. I can't tell you how many articles I read that were written by physicians where the content completely conflicted with each other. Articles, parent comments, blog posts can also be outdated so always pay attention to dates and look for recent research to confirm or deny what you read. Be cautious of people who are emphatic about their beliefs and condemn yours. Who are they anyway? Similarly, who am I to you? I am no expert, I am still at the beginning of this food allergy/intolerance journey, it is but one of the many feeding issues we face. There are many great blogs and parent forums on food allergies, you should check them out, and the resources are endless. To gain the knowledge reported here, I read hundreds of posts by other moms in multiple forums/groups, read every article and blog I could, researched clinical studies, met with my daughters feeding team, etc. I don't take anyone else's word for anything when it comes to my child and since I am the Mom, I get final say.
You should too.
Additional Resources:
Trends in Allergic Conditions Among Children: United States, 1997–2011, CDC/NCHS Data Brief May 2013
Allergic Proctocolitis in the Exclusively Breastfed Infant, The Academy of Breastfeeding Medicine 2011
Clinical Presentation of Celiac Disease in the Pediatric Population, Gastroenterology 2005
Childrens Physician Network, Wheat Allergy
The Prevalence of Food Allergy: A Meta Analysis
Diagnosis and Management of Cow's Milk Allergy in Infants
Guidelines for the Diagnosis and Management of Food Allergies in the United States
Huge thanks to Lori DeMauro who put enormous time, research, and love into compiling this fantastic resource to share with other families. With deepest regards, Alexis Dubief.
If you want to download the full article as a PDF use the link below:
[button type="download" link="https://www.preciouslittlesleep.com/wp-content/uploads/2013/10/FoodIssuesandBabies.pdf"]DOWNLOAD Full Infant Food Allergies Article[/button]