Join the Precious Little Sleep Facebook Group!



There is a large, amazing Facebook group for Precious Little Sleep book readers! It's a great place to find like-minded peeps, ask questions, share success stories, etc. It is an actively moderated group with dedicated team of admins who keep things cool. This means many things including enforcing the group rules:
Be awesome to each other
Be awesome to the admins
No selling stuff
If you want to join our group you must do so using this form. Clicking the "join" button on Facebook directly won't do it. If you're curious as to why you need to do this, you can read more about it here.
Please take a moment to head over to Sleeping Through the Night Part 1 and give it a read. This is a great primer into baby sleep and more importantly, you'll need a word from that page to join the Precious Little Sleep Facebook Group!
After submission here you should expect to be added to the group within the next 3-4 days. You will receive an invitation via email that you will need to accept. So please keep an eye out for that in your inbox!
Cheers and welcome!
If you have any major questions or problems email us at groupadmin@preciouslittlesleep.com!
Things You Should Know
1. Do not attempt to join the group by clicking the "join" button on Facebook. This will make it impossible for us to add you. Yes I know this is counterintuitive. But this is how Facebook has decided to make things work. *shrug*
2. You will get an email from Facebook (not me!) to join the group. It is somewhat confusing because the link will take you to a page that looks like this: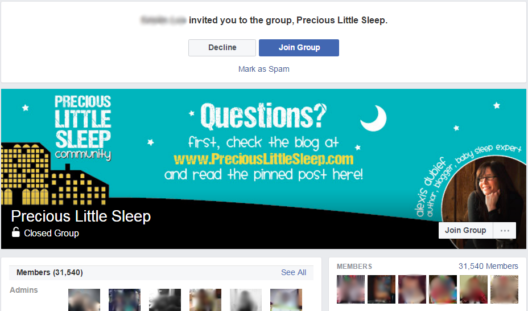 Please note there are, confusingly, two join buttons.
CLICK THE BLUE BUTTON!!!
Do not click the white button, blue only. Clicking the white button will make all your hair fall out. Probably.
3. Why is this so confusing? Because Facebook hates us? I dunno.
4. Why do we use this convoluted process just to join a Facebook group? We do it this way for the reasons I explain here.