For most babies, the swing is a handy tool to help ease the occasional disruption of teething, growth spurts, and days when naps just aren't happening. For about 15% of babies, according to Dr. Karp, the baby swing will be a crucial newborn survival tool.
You will know you are the parent of one of these babies because the thought of your baby outgrowing the swing will cause you to break out in flop sweat.
Baby Outgrowing the Swing?
This comes up a lot, so lets pause briefly to consider the reality that your child will NOT outgrow the swing.
The average US baby weighs 7.5 lbs at birth and will hit 21+ lbs by their 1st birthday. Modern Fisher Price swings have a weight limit of up to 25 lbs and Graco swings can handle babies up to 30 lbs. This means that your baby will have outgrown their need to swing far before they need to physically vacate the swing. So you can stop Googling toddler swings because I promise, you won't need one. Honest.
When Should Baby be Out of the Swing?
Most babies will only need the swing for a short time and will be happily sleeping without motion by the time they are 3-4 months old. Some babies need extra soothing and might be in the swing for as long as 6 months. A very small group of babies (those who have reflux or who are just extra sensitive) may need to stay in the swing until they are 8-10 months old.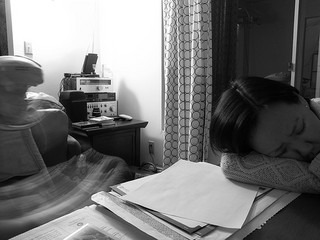 There is no obvious litmus test to know that your baby is ready to move into their crib. You simply try to dial down the speed now and then and see where that gets you. If your baby takes a 2 hour nap when the swing is on speed #4 and a 20 minute nap when the swing is on speed #2, then you know it's not time yet. One day soon you'll put your baby in a non-moving swing, the door will ring, and while you're signing for a FedEx package, your baby will fall asleep sans-swinging. And voila!
But just in case FedEx doesn't come to your house at naptime, you can also wean your little motion-junkie out of the swing the old fashioned way.
The 8 Step Process to Successfully Weaning Your Baby Out of the Swing
[list type="numlist"]
Put your baby into the swing AWAKE.

The swing is a powerful tool to help your baby learn to fall asleep without you (bouncing, rocking, feeding, etc.) them to sleep. However if you're still (bouncing, rocking, feeding, etc.) your baby to sleep and THEN putting them into the swing, you're not taking advantage of this capability. Yes you'll be able to slip your already sleeping baby into the crib and feel like a huge success. But that leaves you navigating the treacherous waters of "putting baby down awake" on your own. While this can be done, it's generally a lot easier with the swing. So take this opportunity to work on "put baby down awake" IN the swing, BEFORE you start weaning OFF the swing.

Give baby lots of great sleep cues.

Ideally your baby is sleeping in the swing with a great wind-down routine, tight swaddle, loud white noise, and possibly a pacifier. Thus when you remove the swing from the equation, you still have 3 other wonderfully soothing sleep cues to work with. If you're just plunking your sleepy baby in a swing without additional sleep cues, removing the swing leaves you…nothing! Even if your baby is sleeping just fine in the swing without any additional sleep-aids, the swaddle and white noise will be your friends when it's time to transition to the crib.

Start weaning with bedtime.

Almost all babies transition to the crib more easily at bedtime than they do for naps. Once you've mastered crib sleeping at bedtime, move on to the first nap of the day.

Move the swing NEXT to the crib.

For most of you, the swing has been next to your bed. Now it's time to move it so that it's next to baby's bed.

Progressively decrease the speed of the swing.

Continue to put baby in the swing awake. Start decreasing the speed. Note: Despite my love of Fisher Price Baby Swings the only issue is that the difference between the highest and lowest speed is, well, negligible. The bottom line is that you want your baby swinging on the lowest speed possible, with a swaddle and white noise, NEXT to their crib.

Put your awake baby in a non-moving swing.

If it helps, you can manually swing the swing a little bit to help them fall asleep. But you want to do this as little as possible (or minimally decrease the amount of swinging each day). The goal is for your baby to sleep in a motionless swing. Once your baby is falling asleep in a motionless swing…

Put baby in the crib.

I can't promise you a tear-free transition. Sometimes there is some mild complaints about the change of scenery. But generally it IS mild (<20 minutes on night #1).

Repeat the process for naps.

Note: sometimes swing-loving babies are sleeping happily in their crib LONG before they make the transition to naptime. It's not at all uncommon to have a 4 month old night-sleeping in the crib but napping in the swing until they are 6 months old. So if the nap transition isn't happening for you today, take a break. Try again in a week or two. There's no rush.
[/list]
[box type="blank" class="border-dashed2″]
Start With Step #1 – put baby in swing awake is the most important step in the process! If you aren't putting baby in the swing awake you'll likely find yourself with a baby who takes short naps and wakes frequently at night once you transition to the crib. AND you'll have to climb Mt. Put-Baby Down-Awake later. Only now you will have removed the swing from your arsenal of powerful soothing tools.
[/box]
Anybody have any experiences they would like to share? Stories from the trenches?